CE Marking Military Equipment
Military equipment does not have a general exemption to CE marking requirements: exemptions for specific applications are contained within certain directives such as 2014/53/EU Radio Equipment and 2011/65/RoHS, but other directives such as EMC and Low Voltage Directives do not contain any exemption.
Military Equipment and the EMC Directive – a brief overview
In common with other national legislation in the EU, the UK EMC regulations (SI 2006/3418) implementing the EMC Directive into national law does not contain an exemption for military equipment that was previously included in implementation of old directive 89/336/EEC. As a result Military Equipment must comply with the EMC Directive unless subject to an explicit exemption.
As fixing the CE mark to a product is a declaration that the product complies with all applicable directives, manufacturers of military equipment now have to ensure that products comply with relevant EMC, safety and other applicable requirements prior to CE marking and placing the product on the market or into service.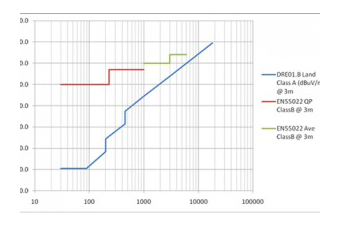 Technical justification, such as comparing emissions against Military limits with commercial limits, can help minimise additional testing.
How we can help
Undertake design review and advise on methods to comply with EMC and environmental requirements.
Perform GAP analysis on the differences between contractural Military EMC testing requirements and requirements of the EMC directive, writing a Technical File including technical argument and/or results of additional EMC tests.
Provide experienced staff with current UK DVA security clearance.
Support clients through project bid and financial planning processes.
Target applicable product requirements and support risk mitigation exercises.
Write Test Plans and agree them with end customer.
Arrange, sub-contract and support final testing at suitable 3rd party laboratories, managing simultaneous tests across multiple sites if required to deliver results to project deadlines.
Need your military equipment CE marked?
Get in touch with us today