CE Marking requirements
CE Marking, or affixing The CE Mark, indicates that a product complies with all applicable CE Marking directives and must only be affixed once compliance with all applicable directives has been demonstrated.
The CE marking is required for many products. It:
shows that the manufacturer has checked that the products complies with all relevant essential requirements, for example those covering safety and electrical interference.
is an indicator of a product's compliance with EU legislation
allows the free movement of products within the European market
By placing the CE marking on a product a manufacturer is declaring, on his sole responsibility, conformity with all of the legal requirements to achieve CE marking.
Not all products must bear the CE marking. Only those product categories subject to specific directives that provide for the CE marking are required to be CE marked, and products that are not required to be CE marked should not be.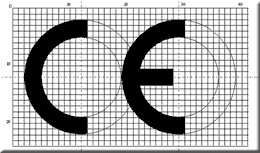 The CE conformity mark must consist of the initials 'CE' taking the following form:
Unless specified otherwise in the relevant directive, the CE Mark must be at least 5mm high.
Where the size is changed, the height:width ratio must be maintained.
The CE Mark should be affixed to the product, unless this is not possible due to size or type. In these circumstances the CE Mark may be fixed to packaging and to any accompanying documentation.
Europe CE Marking Consultancy
As independent consultants, with over 20 years experience of demonstrating compliance with EU Directives, we can help you CE Mark your product in a timely and cost effective manner, meeting the requirements of a number of EU Directives, including:
Low Voltage Directive or LVD; 2014/35/EU.
EMC Directive; 2014/30/EU.
R&TTE Directive; 1999/5/EC and forthcoming Radio Equipment Directive; 2014/53/EU.
CE marking military equipment.
Restriction on Hazardous Substances or RoHS; 2011/65/EU.
In many cases the manufacturer can self-declare (self-certify) compliance with applicable directives. Sulis can help you through this process, demonstrating "due diligence" in taking all reasonable steps to ensure conformity prior to CE Marking your product, by assisting with any or all of the following:
Review existing CE Marking Technical Files and advising on any areas requiring updating or more detail.
Identify applicable Directives and Harmonised Standards.
Propose suitable approach where Harmonised Standards don't exist and obtain a formal opinion from a Notified Body when required.
Provide design advice during early stages of product development.
Perform on-site EMC testing and help Fix EMC test failures.
Draw up test plans and perform required tests or support required testing at a 3rd party test house.
Produce Test Reports, Technical Justification Documents, Technical Files and draft Technical Construction Files that should be retained by the manufacturer to support the application of CE Mark.
Draft innovative test plans for products supporting a number of services, we can often reduce duration and cost of testing.
Advise importers and agents on their additional impending responsibilities under new, NLF aligned, EMC and Low Voltage Directives.
In need of a consultation?
Get in touch with us today